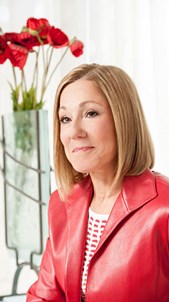 Community and Philanthropy
Philanthropy: Leave Your Mark, Make A Difference
Passionate about the law, Charna is deeply passionate and equally compassionate about involvement in the community and philanthropy.
Following the lead of an exemplary extended family, Charna has a distinguished record of community involvement and philanthropy.
She has launched and supported a public service scholarship at Cleveland-Marshall College of Law (C|M|Law) at Cleveland State University, a donor advised philanthropic fund with the Jewish Federation of Cleveland, and concurrent with the formation of her own firm, the Ruby Shoes Fund to empower women on the ladder of success in the legal profession. Charna's term also just expired on the Council for the American Bar Association's Fund for Justice and Education, which oversees all of the ABA's charitable funds and projects. Her leadership in the community was recognized when she was invited in 2012 to participate in Leadership Cleveland.
Charna has been actively involved in Jewish communal service since her teens. Since her return to Cleveland in 1989, Charna has served of the board of her synagogue, been an officer of the Bellefaire-Jewish Children's Bureau, volunteered on numerous committees of the Jewish Federation of Cleveland, and supports The Charlotte Goldberg Community Mikvah. Beginning in 1995, Charna inaugurated and chaired for more than a decade a biannual Parents-in-a-Pinch benefit to raise scholarship money for day care for children of needy working families at the JDN Early Childhood Center in Shaker Heights, Ohio. Over the years, Charna has helped raise hundreds of thousands of dollars for such scholarships.
Charna also has a knack for transforming fun into philanthropy and vice versa. She served on the Board of Shaking with Laughter, which seeks to cure Parkinson's with the help of comedy and musical talent. Years ago, Charna and her former partner (and former spouse) put their love of golf to good purpose by creating a new Thanksgiving tradition: The Turkey Open. This 3-club 3-hole golf tourney on a top-100 course at the Canterbury Golf Club occurs no matter the weather. Depending on the year, the "trophy" win may turn on the choice of rain or wind gear, or the club selection of a snow shovel. As a way to appreciate our abundance, everyone who participates contributes to the Hunger Network of Greater Cleveland, which helps feed 60,000 people every month and is the largest direct emergency food provider in Cuyahoga County. In 2009, Charna and former partner were recognized by the Hunger Network board as "Hunger Heroes."